As an Amazon Associate, I earn from qualifying purchases. This is at no extra cost to you.
You may remember my husband set fire to our garden?
Landscape gardeners do wonderful work.
Here's why I think that.
We all know that 2020 has been a very unusual year.
Not only has the world been hit by a pandemic that put the UK into a total lockdown from March through to July.
That wasn't the only storm to hit us.
Storm Ciara ripped through this part of the world in February 2020. Followed by another storm, Dennis, that wreaked havoc on our garden.
We lost fence panels and a pergola that almost took our elderly dog with it when it hit the ground.
Then there was the minor but no less annoying, visit from the home insurance Claims Assessor.
Always a joy I'm sure you'll agree.
He 'assessed' that the damage wasn't covered by our insurance policy.
No surprise there then.
Apparently, we should have familiarised ourselves with clause something-or-other that comes into play when two storms hit in short order on a day with a 'Y' in it.
I swear you need a law degree to understand insurance terms and conditions even when they're written in something called plain English.
But nothing prepared me for my husband setting fire to the remains
I wrote previously about this subject. I don't think I've gotten over it yet.
In that post, I covered some great ideas for redesigning the space left blackened.
My main requirement was for a new seating area that would take up most of that space.
So, alongside that requirement, was one to find a good landscape gardener to do the work without bankrupting us.
The great news is that we found a wonderful landscape gardener and we have our new decking area! Fanfare, please!
And it's only taken 9 months to get it done. Yay!
Only?
Yep.
You see. When the lockdown restrictions were being lifted a little, back at the start of July, almost everyone with an outside space had come up with ideas to redesign their patch of paradise.
Finding a landscape gardener to give us a design and quote was the first hurdle as they were booked solid for months. It seems other people were quicker off the mark than I was.
But we did find one, eventually, and he did a fabulous job.
So this post is in praise of landscape gardeners. God bless them.
The bamboo that was the bane of my life is gone
The people who owned our house before us had planted bamboo as a wind break.
A combination of us not knowing how to control bamboo, and the bamboo not having been planted correctly to keep it in one place, resulted in a bamboo lawn invasion.
It felt a little like Day Of The Triffids with the bamboo marching relentlessly on across our lawn.
I hated the stuff. Literally.
If you're considering planting bamboo in your garden, make sure you research varieties and planting guides. Really. You won't regret taking the time but might regret not doing.
It seems using a root barrier is the way to go.
But it was too late for that in our case.
Digging out the bamboo roots was a major task, so the choice of a landscape gardener to do the work was a simple decision in the end.
Without the use of a mini earth-mover it would have been back breaking work.
Working on a site with a steep slope
Another challenge was the gradient of our garden. It isn't very steep compared to some I've seen. But it does drop some five or so feet over the length of the area being worked.
As a result, many tons of earth had to be moved to get all the bamboo roots out, and to level off the part of the garden that will have a new greenhouse in the spring.
Back to the impact of the lockdown
As I write this we're in the pre-Christmas week and I've been checking suppliers of garden furniture to pick up a bargain in the winter sales of all things summer.
You guessed it.
Because so many people were spending time at home in their gardens and on their patios. And because we had an unusually warm and dry spring and summer the suppliers of garden furniture don't have stock to shift.
Result. No bargains.
I did say that I would try my hand at building my own wood-framed furniture.
I had this in mind when I began to think about my ideal seating area.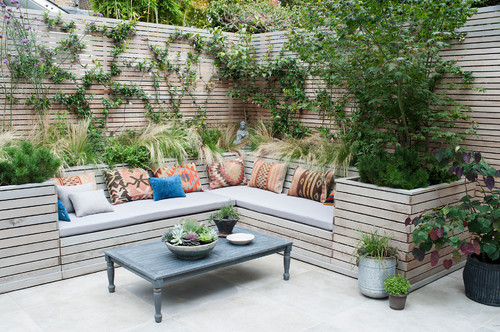 But being realistic, I may have to go to the back of the queue for someone who can turn up with a load of wood and leave a couple of days later having created something gorgeous like this.
why I'm a fan of landscape gardeners
The work completed on a site that had been left devastated by storms, and husband damage, is truly amazing.
Having an idea in your head and finding someone with the skill to take that and turn it into reality is so satisfying.
The final piece of the jigsaw was the removal of some badly overgrown conifers that were slowly demolishing a garden wall as they grew ever bigger.
The result is an area with so much more light, but with the retained trees we still have shade and privacy.
Perfect.
Now. Where's that list of local woodworkers who can build me some garden seating?
I value my fingers too much to get out the circular saw.